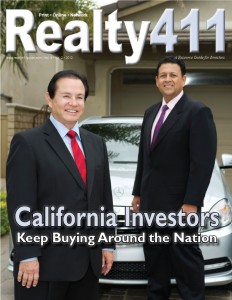 The Realty411 Team is very EXCITED to share our new issue with you!
The NEW magazine will be uploaded to our site very soon, plus it will also be accessible on about 12 other websites. For now, we'd like to give you a sneak peak as to what you can expect, be sure to check out our table of contents below.
Do you see any of your favorite educators?
We encourage you to show your support by becoming a loyal Realty411 subscriber. You will receive our NEW ISSUE plus a VIP pass to our next event for you and/or a guest. Plus, you will receive invitations to special webinars and teleconferences hosted by the publisher as she interviews some of the TOP real estate educators in the nation!!
We are the only FREELY ACCESSIBLE real estate magazine published by ACTIVE investors and licensed real estate professionals. We actually show readers our deals so they can learn and get our insider tips stemming from 17 years of investing experience.
Your subscription allows us the ability to make our magazine accessible online to everyone regardless of their ability to pay for this information. So, if you like what you see and you have benefited from our publication, blogs, videos or webinars, please become a loyal subscriber!
JUST LOOK AT WHAT'S INSIDE…
How Real Estate Performs During Inflation
Editor's Letter: It's EASY to Build Wealth
The BIG Property Grab by Dave Lindahl
3 Profit Centers to Create CashFlow
Build Wealth Starting with Only $100,000
Who's on the Radio? It's the Real Estate Guys
Jason Hartman's Financial Freedom Report
The Real Estate Scoop in Hollywood
LA Clubs Host TOP Real Estate Leaders
A Solid Foundation with Whiterock Capital
Tom Wilson's Tale of Two Turnkeys
Spotlight on Ohio with Missy McCall Hammonds
Why the Industry Seriously Dropped the Ball
Tips from Shortsale Masters Bill & Dwan Twyford
WhiteRock Capital Creates Wealth in CA & AZ
The Lady Landlords take San Diego by Storm
Matt Theriault Helps Readers Conquer Fear
The Property Flip Pros Share their Insight
Cashflow In North Carolina with Alex & Kevin
How to Market Your Self Storage Facility
Insight from America's Land Trust Expert
401(K) Investing with Accuplan Benefits Services
Belize: A Tropical Paradise with a Strong ROI
Inside a Note Deal with Tony Martinez
Why Arizona Real Estate Leads in Appreciation
Mathew Owens, CPA Gives 10 Keys for Success
Community Buying Group Saves Investors Money
Chris Dannenfeldt Shares his Rehab Wisdom
Norada Real Estate Helps Investors Profit
Seller Financing Options in Indianapolis
Market Spotlight: Kansas City, MO
Should You Fix and Flip or Buy and Hold?
If you cannot subscribe today due to financial reasons, it's ok.  We are in business to help YOU change your limiting resources. Our complimentary investing resource guide can be downloaded 24/7/365 right here on this site, plus on about 12 other websites too!
Be sure to do a Google search on us to find back issues and also connect to our social media community of nearly 30,000. Our reputation is stellar and we value high level industry standards and accountability in the business of real estate.